Archive for month: November, 2015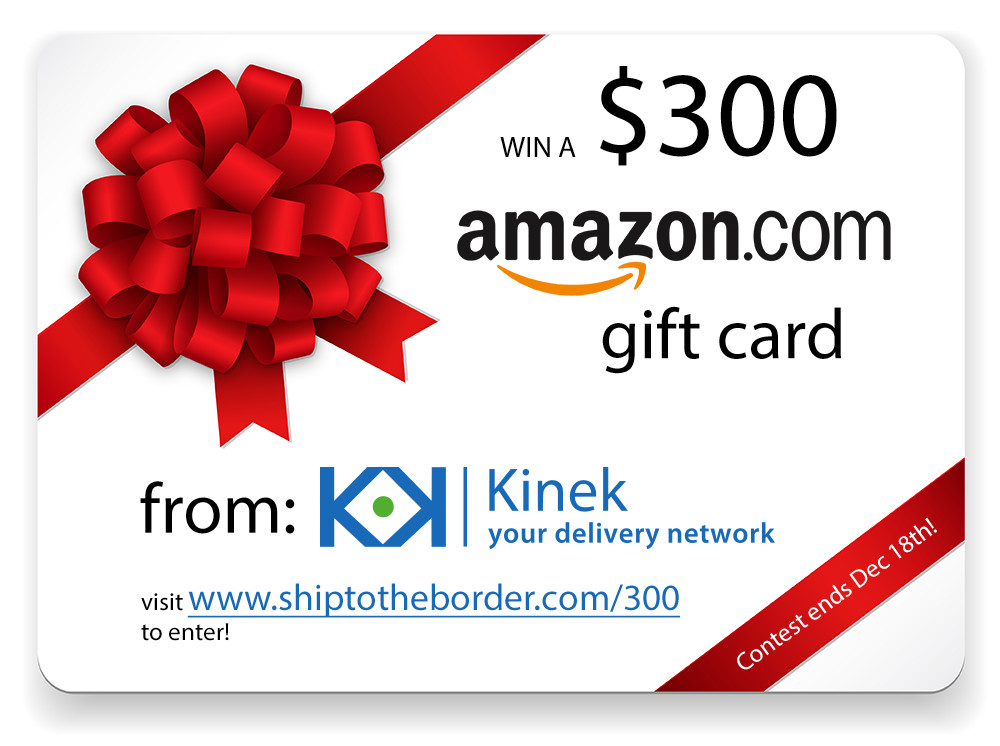 Head over to www.shiptotheborder.com to find out how you can enter into the Kinek holiday giveaway!
Most KinekPoints are CLOSED Thur., Nov. 26.  As well, a few are closed on Friday.  Prior to leaving or shipping items to your KinekPoint, you should always login to your account to confirm information (i.e., View Hours & Pricing, ensure your KinekPoint hasn't moved, etc.).
AN Deringer:  Warehouse CLOSED, Thurs, Nov 26.  However, office will be open with regular hours. Must call ahead to have your packages moved over to the office.
AMZ Wholesale:  OPEN Nov 26 9:00 – 1:00 and Nov 27 9:00 – 1:00
Appleway Video:  CLOSED Nov 26
Bay Brokerage Champlain:  CLOSED Nov 26 and Nov 27
Bay Brokerage Tonawanda:  CLOSED Nov 26
Bay Brokerage Alex Bay:  CLOSED Nov 26
Bay Brokerage Port Huron:  CLOSED Nov 26
BayBurg Expediters:  CLOSED Nov 26
Border Mail Depot:  CLOSED Nov 26
Border Tire & Kinek:   CLOSED Nov 26
Business America Services:  CLOSED Nov 26
Computing Express:  CLOSED  Nov 26 and Nov 27
Edge Logistics:  CLOSED Nov 26
FB Package & Shipping:  CLOSED Nov 26
Houlton Power Sports:  CLOSED Nov 26
Letterlock Kinek:  CLOSED Nov 26
Malone Lumber:  CLOSED Nov 26
My American Address:  CLOSED Nov 26
NAC Logistics:  CLOSED Nov 26
New York Mailbox:  CLOSED Nov 26
Norman G Jensen:  CLOSED Nov 26
Red River Freight:  Open Nov 25 until 4:00, Closed Nov 26
Ship-it:  CLOSED Nov 26 and Nov 27
Storage Central:  CLOSED  Nov 26, OPEN Nov 27
Triple A Building Center:  CLOSED Nov 26 9:30 -1:30
UPS Store of Lewiston:  CLOSED  Nov 26
Wellesley Island Building Supply:  CLOSED Nov 26
AN Deringer: Normal Hours
AMZ Wholesale: Normal Hours
Appleway Video: Closed
Bay Brokerage Champlain: Normal Hours
Bay Brokerage Tonawanda: Normal Hours
Bay Brokerage Alex Bay: Normal Hours
Bay Brokerage Port Huron:  Normal Hours
BayBurg Expediters: Normal Hours
Border Mail Depot: Normal Hours
Border Tire & Kinek: Normal Hours
Business America Services: Normal Hours
Computing Express: Normal Hours
Edge Logistics: Normal Hours
FB Package & Shipping: Normal Hours
Houlton Power Sports: Normal Hours
Letterlock Kinek: Normal Hours
Malone Lumber: Normal Hours
My American Address: Normal Hours
NAC Logistics: Normal Hours
New York Mailbox: Normal Hours
Norman G Jensen: Normal Hours
Red River Freight: Normal Hours
Ship-it: Closed
Storage Central: Normal Hours
Triple A Building Center: Normal Hours
UPS Store of Lewiston: Normal Hours
Wellesley Island Building Supply: Normal Hours